Friedrichstadt-Palast Berlin
Live on stage
Photo: Friedrichstadt-Palast Berlin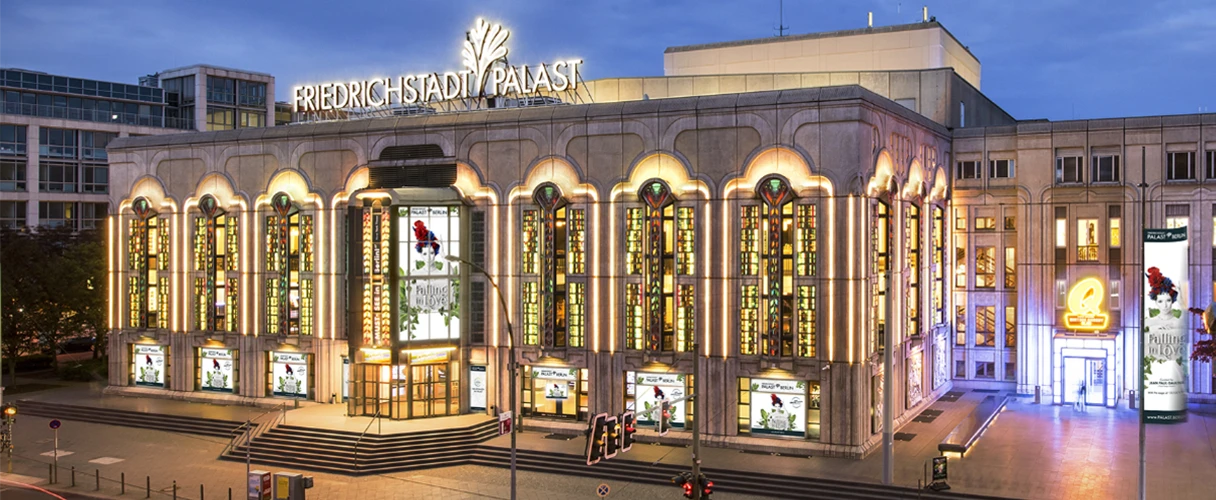 Friedrichstraße 107, 10117 Berlin
Fare Zone AB
U6 Oranienburger Tor
S1, S2, S25, S5, S7, S75 Friedrichstraße; S1, S2, S25 Oranienburger Straße
Friedrichstadt Palast, Bernd Brunder, Brinkhoff Moegenburg, Robert Grischek
147 Friedrichstraße/ Reinhardtstraße, 142 Torstraße/ U Oranienburger Tor
10 % discount on the ticket price in price categories 4 to 1+*
Largest Theatre Stage in the World
Welcome to Berlin's number 1 for radiant entertainment! The Friedrichstadt-Palast is the most visited stage in Germany. The New York Times calls the shows a "must-see" on any visit to Berlin. Over 100 artists on the largest theater stage in the world, an unforgettable experience.
FALLING | IN LOVE Grand Show
The focus is on You. He is young, full of passion and longing. But he doesn't fit into any templates. He finds no love in the petrified faces around him. You wish only to sink into the ground when he is rejected again.
Then the gray asphalt of civilization shatters beneath his feet. And You fall into another reality.
There, in the hidden garden of love, he sees what he has never seen before — a surging sea of colors and beauty in all facets of our nature. The eternal human dream of a better world, it lives. Walled in under time-honored norms.
In the end, will a young, deaf poet find the words to make man-made walls shake and love blossom?
FALLING | IN LOVE is a blooming fantasy. As dreamlike as it could be true. Dive with us into a sea of colors full of lust for life - curated by Parisian star designer Jean Paul Gaultier. Experience Berlin's most radiant show jewel - with the magic of Swarovski. Due to the pictorial narration, the show is also ideally suited for guests without knowledge of German!
Your Benefit with EasyCityPass Berlin: 10% discount on the ticket price in price categories 4 to 1+*
*Tickets can be conveniently booked by phone (030 / 2326 2326), by e-mail (tickets@palast.berlin), or at the theater box office with the keyword "EasyCityPass". The EasyCityPass must be presented at the time of collection.
*Holders of the EasyCityPass receive a 10% discount on the ticket price in price categories 4 to 1+. The offer is valid for all FALLING | IN LOVE Grand Show performances, subject to availability. It is not valid for special events, not between 12/24 - 12/31, and cannot be combined with other discounts. Subject to change without notice.
© Photo Credits: Friedrichstadt Palast, Bernd Brunder, Brinkhoff Moegenburg, Robert Grischek
Info
For current opening hours please visit our partner's website!
Features
Wheelchair accessible
Air conditioning
Non smoking
Wifi