Flakturm Climbing Wall
Extraordinary Experiences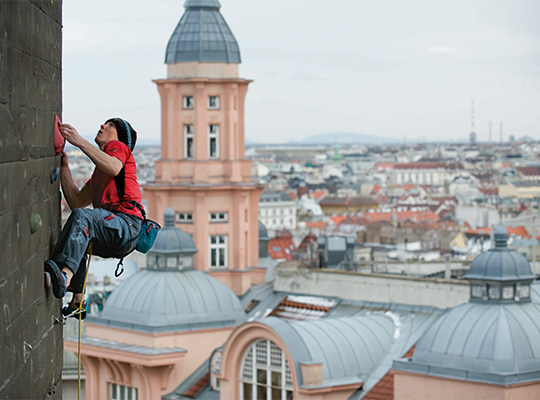 Fritz-Grünbaum-Platz 1, 1060 Wien
Fare Zone Core Zone
U3 Neubaugasse, U4 Kettenbrückengasse
13A/14A Station Apollo Kino/Gumpendorfer Straße
Climb over the Rooftops of Vienna
The Flakturm climbing facility covers over 700m² and features more than 3,000 grips for a great deal of variety and a challenge on the vertical. There is a 34m high main wall with over 20 route variants, from 4-9 level of difficulty, top rope or lead climb. Day and season passes, beginners' courses, taster sessions, individual supervision and kids' climbing, covered boulder areas with a climbing surface of 120m2. Rentable equipment: Climbing shoes, belts and harnesses.
Facts and figures - Flakturm Climbing Wall
700m² open-air climbing area with over 3,000 grips
30m high climbing wall with 550m² climbing surface and around 20 routes ranging from 4-9 difficulty levels
Covered boulder area with a total climbing surface of 120m²
Cloakroom and WC
Rentable equipment: Climbing shoes, belts and harnesses
Cold drinks
Your Benefit with EasyCityPass Vienna:  50% discount on climbing
© Photo Credits: Kletteranlage Flakturm-Esterházypark, Skitterphoto, moritz320, Skitterphoto, ctrl-alt-shift-e on Pixabay
Info
Mid-April to early October. Mon - Sun 2:00 p.m. to dawn (no later than 10:00 p.m.)! The facility remains closed in bad weather. For current opening hours please visit our partner's website!